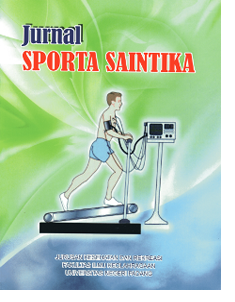 | | |
| --- | --- |
| Print ISSN | 2502-5651 |
| Online ISSN | 2579-5910 |
| DOI Prefix | 10.24036 |
| Publisher | Jurusan Kesehatan Dan Rekreasi Fakultas Ilmu Keolahragaan Universitas Negeri Padang |
| Editor in Chief | Muhamad Sazeli Rifki Scopus ID: 57215087756 |
| Frequency | 2 issues per year |
| Focus & Scope | Journal of Sport Science aims to facilitate interaction, discussion, and updating ideas from scientists of Sport in Indonesia. The Sporta Saintika Journal contains empirical research in sports science. We are welcome a research article, theoretical, policy review, or methodological review, to submit to our journal in the following research scope: Sports Science, Sports Education, Sports Recreation, Sports Tourism, Sports Nutrition , Sports Coaching, Sports Health |
The Sporta Saintika Journal is a scientific publication in sports and health related to the fields of sports science, sports education, sports health, sports tourism, sports regulations and policies, nutrition and public health as well as sports performance / sports training. The publication of the Journal of Sporta Saintika aims to facilitate interaction, discussion and updating of ideas from sports scientists in Indonesia. The Journal of Sporta Saintika contains empirical research in the field of sports science.
The journal Sporta Saintika is published twice in publications (March and September)